How to write a welcome email that will actually engage customers
history September 25, 2021
local_library 11358 minute read
Email marketing is one of the most efficient and direct methods of communicating with your customers (and potential customers).
Because you have complete control over the communication, you can send personalized messages based on your subscribers' interests, purchasing habits, and preferences. And getting the messaging right will have a direct impact on your bottom line.
It's also a fantastic opportunity to be yourself and demonstrate that you're a genuine person behind the business.
…but don't take anything for granted. Being in someone's inbox is a privilege that comes with some ground rules.
When planning your email marketing strategy, make a conscious effort to put yourself in the shoes of your subscribers. What is it that they are concerned about? What problems do they have that you can help them with? What information will be useful to them?
And, as with any other relationship, early expectations and "get to know you" interactions set the tone.
With email subscribers, your welcome email (which is sent as soon as they sign up for your list) is the ideal place to set expectations as well as introduce yourself and your business.
An amazing welcome email will make your readers feel, well, welcome, but it's also going to act as the foundation for the rest of your relationship. So put in the time to make it great.
What is a welcome email?
When someone new subscribes to your email list, a welcome email should be sent automatically. It should establish expectations about what your company is all about and how frequently you will communicate with them.
Remember that your welcome email is one of your subscribers' first impressions. Use it to show your personality and to remind people that there is a real person behind the brand. Because, at the end of the day, people prefer to purchase from other people rather than businesses.
So, make the most of your welcome email as a chance to stand out in your subscribers' inboxes. Tell your story, keep them entertained, and keep the promise you made when they signed up.
Plus, 74% of email subscribers expect a welcome email. So make sure you deliver on that and go above and beyond to make it stand out…it doesn't take much.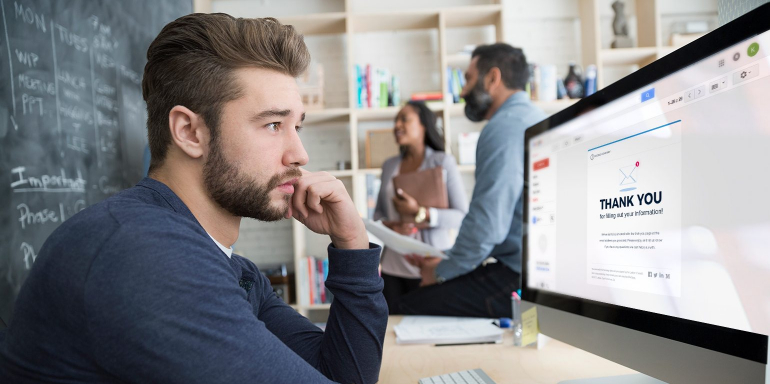 Welcome email statistics
Imagine walking into the home of someone you barely know and, instead of being greeted with an introduction and a warm welcome, being greeted with a plate of desserts before you've even opened the door.
That's exactly how new subscribers feel if you don't send a welcome email and instead begin sending promotional emails with no context.
This is referred to as "The Dinner Party Strategy" by Val Geisler. And it's extremely effective.
Your welcome email is your opportunity to really WOW your newest "guests" and make them feel welcome.
So, whatever you do, send an automated welcome email to every new subscriber who joins your list.
5 welcome email best practices
You should now understand what a welcome email is and why it is such an important component of your overall email marketing strategy.
But, if you're wondering how to write the ideal welcome email for your newest subscribers, look no further.
Whether you're just getting started or you've already got a welcome email in place, these best practices will ensure you're making the most of the first interaction with the newest members of your email list.
Send customized messages
The segmentation process has begun. The more personalized your welcome email, the better.
Assume you have different campaigns set up depending on where your visitors come from. If someone comes from a Google search or a specific ad, for example, the offer is different. In an ideal world, you'd create a separate welcome email for each of your store's welcome campaigns.
Then, in your welcome email, you can tailor the messaging to their specific experience. This way, you can send new subscribers a more personalized welcome message that corresponds to their journey with your brand.
It may appear to be a minor change, but these changes create a better experience and build trust from the start.
Create a distinct email subject line.
Email subject lines are an important part of the email marketing puzzle for each and every email you send.
Even if you know that welcome emails have incredibly high engagement when compared to other email types, you must still be careful with your subject line. It is still what your readers will look at first to determine whether or not to open your email.
Because this is the first time you're emailing this new member of your list, make sure your subject line clearly states who you are and why you're emailing them. The best subject lines are short and to the point, with a welcoming theme.
If you're using a double opt-in, which requires any potential new subscribers to give you permission twice, you'll want to make that clear in your email subject line as well, because action is required.
Set a tone for new subscribers.
Before you begin telling your brand story, make sure you address why your subscriber signed up with you in the first place.
First and foremost, this means that you keep your word. So, if you mentioned a coupon code when they signed up, make sure you include it in a clear, visible place.
Remember that your first priority in any email you send is to serve the needs of your subscriber or customer, so make it clear in the welcome email why they're here in the first place.
Bonus points if you specify how frequently (and when) your subscribers can expect to hear from you. So, if you send an email every Friday, be sure to include that! Or perhaps you only send something once a month. The earlier you set that expectation and build trust with your subscribers by delivering on your promise, the better.
Introduce your brand.
This is your chance to be inventive! Because you're welcoming a new member into the fold, it's a good idea to mention:
What your brand stands for and who you are

Why are you so happy to have them on your list?
You may also wish to include:
Some of the advantages of being included on the list

Social media, for example, is another way for people to connect with you.
Just keep in mind that your welcome email should not contain too many CTAs. So, before you add a bunch of different topics and divide their attention, decide what is the most important action you want these brand new subscribers to take.
So, to begin, tell the story of your company (after you deliver on the promise that got them there in the first place, of course). A memorable story is an excellent way to establish a connection and a solid foundation from the start. You did your job if your subscribers can picture you sitting in your garage at midnight, packing orders.
So be specific and share the specifics. Because if you can tell your story in a way that connects with your audience, they will remember it and feel more connected to your company. And the stronger their connection to you, the more likely they are to support you and make a purchase in the first place.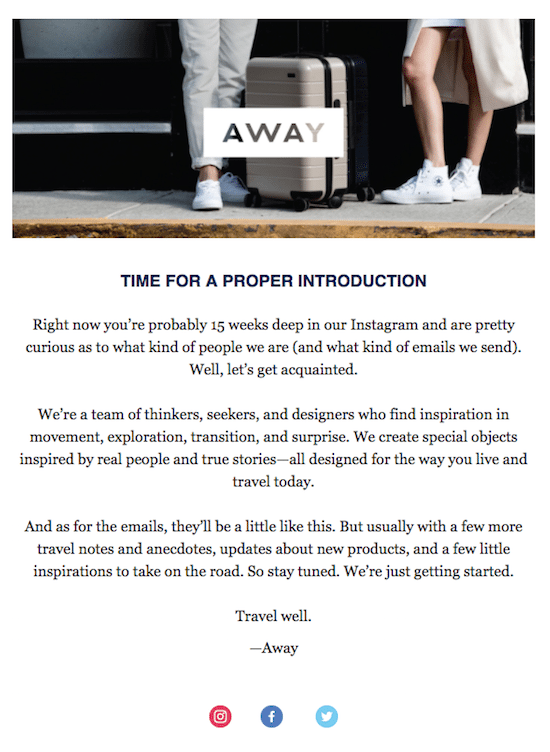 Implement a call to action.
One thing is certain: keep your welcome email brief and to-the-point. While it may be tempting to cram as much information as possible into your email, you want to make it as simple as possible for people to take action and not turn them off right away. This is your big first impression opportunity, so take advantage of it.
Stick to a single major CTA. Whether it's bringing subscribers back to your store, encouraging them to follow you on social media, or simply asking for a little more information about them so you can provide a better, more personalized experience. Think about the one action that matters most for your business from the very beginning and make that the focus of the ask you're making of your subscribers.
6 strategies for making a strong first impression with your welcome email
You've heard the expression, "you never get a second chance to make a first impression?" Well, your welcome email is the ideal place o provide your subscribers with a memorable experience.
If your welcome email only contains a discount code, your brand name, and social links, you've missed out on a critical step in building a long-term relationship.
So treat your welcome email as the opportunity that it is: your first opportunity to increase brand love and awareness.
Here are six simple ways to leave a lasting impression on your new subscribers and turn them into your most ardent supporters.
Send a special welcome offer to new subscribers.
While a more generic "15 percent off your first purchase" offer is great, creating more personalized experiences for your new subscribers is even better.
So, if you have a subscriber who signed up for a referral program-specific campaign, you can tailor your welcome email (and offer) to that experience.
Because the more specific your offers and emails are, the more trust you will gain and the better the journey will be for your subscribers and customers.
Build trust with content
Education is especially important at this stage of the game. You want to establish your company as the go-to spot for the products you sell. As a result, the more you can establish yourself as a thought leader in the field, the better.
So, as you consider the primary focus of your welcome email, consider whether a piece of educational content makes sense. Rather than directing these new subscribers back to your store (likely before they're ready to buy), perhaps you should direct them to a piece of content from your blog or website that you know your customers enjoy. If you're going this route, though, make sure it's evergreen so it's not something you have to constantly update or refresh.
Consider opening a welcome series.
The most important thing to remember if you're just getting started is to set up a welcome email. Then, you can expand on that single email to create a full-fledged series to take your welcome strategy to the next level.
You can educate your subscribers and familiarize them with your brand in a less overwhelming and more helpful way by crafting a series of 3-6 welcome emails.
So, if you begin by telling your story and following through on your promise in your first welcome email, you can share things like:
A look behind the scenes at how your products are manufactured (where, photos of real people, anything that makes it real)

Any content that would be beneficial to new subscribers (blog posts, videos, infographics, etc.)

Details about your company's operations (sustainability, charitable donations, drops, etc.)

If your company never makes a sale, it might be helpful for your new subscribers to know that right away (and maybe even explain why!).

Any FAQs

Your best-selling items (you want to be careful not to see too early…this is still just the beginning of your relationship)
If you create a welcome series, you will be able to share SO MUCH information. However, having all of this in a single email would clearly be far too much. So consider everything you'd like to share with brand new subscribers and fit it into a logical welcome flow.
As a result, your subscribers will not experience information overload at the start of their journey with you. So be cautious about what you share (and when). When in doubt, solicit feedback from the newest members of your list on what is and isn't working.
Try out a gamified approach.
Gamifying the experience your subscribers have with your welcome email is an excellent way to drive engagement, just as a gamified popup (such as a spin to win) is a surefire way to grow your email list.
You could test out an offer for these new subscribers that includes a surprise gift if they purchase within the next 30 days if you included a discount code in the welcome email. Perhaps you're holding a contest or a giveaway.
People enjoy the prospect of winning a prize or receiving something for free. Consider how you can incorporate this into your welcome email experience.
Use video and GIFs to express yourself.
Your welcome email is an excellent opportunity to showcase your personality and put a face to your company. And a video is the ideal medium for including both you, the founder, and your story.
Maybe even tease something like a secret code for a free gift with purchase to entice people to watch the video. The sky is truly the limit in this case.
If you're not comfortable in front of the camera, you can still add personality to your welcome email by including a GIF. Because it is much easier to connect with your subscribers when you write your emails as if you were writing to a friend.
Share the selfish benefit
Every business has multiple stories. There's the founder story, the reason your company exists, and the need you're attempting to fill. There's the story of how you got started and where you've gotten to, and then there's the success stories from satisfied customers.
Whatever story you tell, make sure one thing is crystal clear to your new subscribers: what's in it for them.
You must return to the ultimate benefit for them. Sustainability, social causes, tribe membership (think Apple), status (think Rolex), or anything else that defines you and your community. Make it clear to your subscribers from the start how your company can assist them.
Because if they don't understand why they should spend their valuable time reading your emails, they won't open them, let alone make a purchase. As a result, you must spoon-feed that information to them.
Autoketing can help you improve your welcome email and engage your customers.
Autoketing's Thank You Email Marketing Tool enables users to quickly and easily create a welcome email (or series of emails) to bring the newest members of their list up to speed and introduce the business.
And you can begin your free trial today to begin sending out impactful welcome emails.
For more tips on improving your store, check out our other articles here on Autoketing. 
In case you're looking for trustable applications to your Shopify Store, check for the reference resource Shopify App Store  
Please keep in mind that the Autoketing Team is always ready to support you. We are a Shopify trustworthy partner.
Autoketing is constantly looking for new updates and the best solution for online business on Shopify Store.
If you need any assistance or questions, please do not hesitate to reach out. We're always there to help.
For more articles, find us here.
Email: [email protected]
Social Media: