The ultimate guide to product packaging
history October 2, 2021
local_library 18972 minute read
There are numerous factors that influence how customers perceive your brand, and one of them is the product packaging you select and design.
Product packaging is all about how the product is presented, and it is closely related to customer perception. It can tell a story and set the tone for how you want your entire organization to be represented. A clean and modern look for your product package will make a different impression than a beachy design or one focused on a rustic, natural look.
In a fraction of a second, product packaging says a lot about your brand, with customers sometimes judging the value or quality of a product just by looking at it. The right packaging can also help you sell more by making you stand out, which is a huge advantage.
Packaging may appear to be a minor detail, but far too many merchants ignore it until the last possible moment. However, the packaging is an important component of your marketing and service strategy, and it should not be taken lightly. We'll walk you through the process of choosing a strong packaging design that will represent you well and help you maximize sales in this post.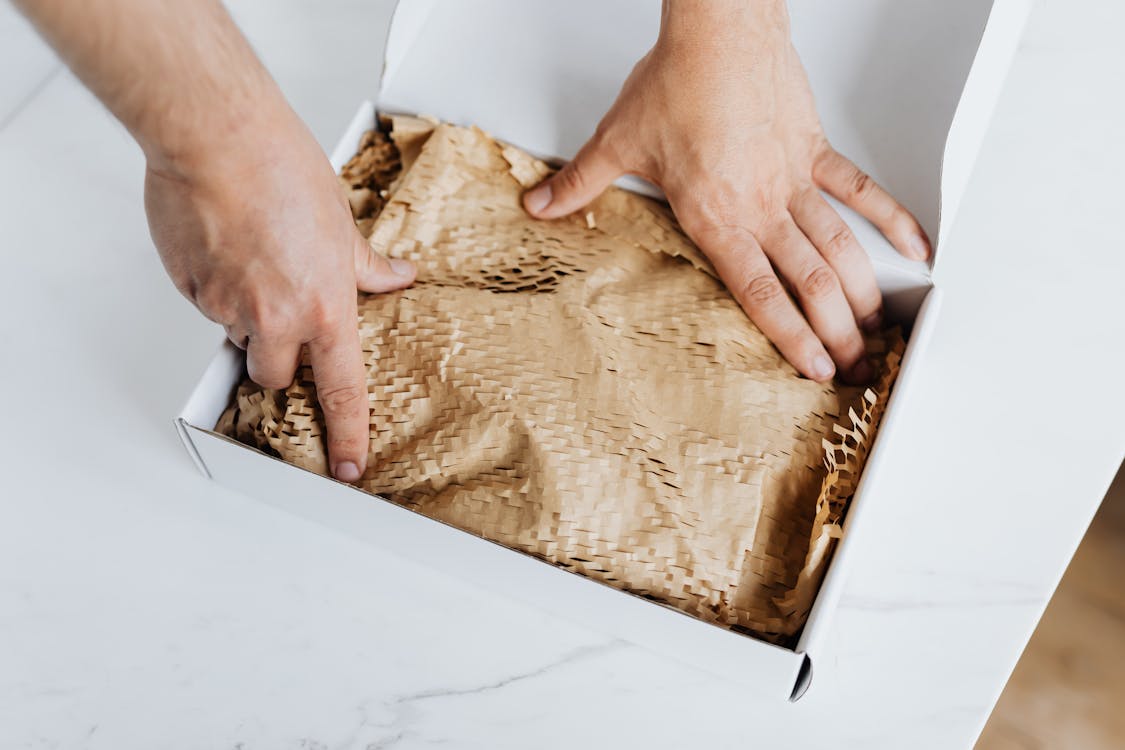 What you need to know about product packaging before you design it
Colors, visuals, size, shape, boxes vs. bags vs. wrapping, materials, and other factors all play a role in product packaging design. It is critical to conduct research before making any of these decisions.
You should be aware of four key points that will have a significant impact on your package design. These are some examples:
Who your target audience is

. To design packaging that will appeal specifically to your target audience, you must first understand who they are and what they want from a product in your industry. Many men, for example, are unlikely to choose something in a flowery pink bottle.

You want to elicit certain connotations

. What do you want people to remember about your brand when they see it? Consider the audience in this situation. Natural, rustic packaging works well for organic skincare products when the brand emphasizes natural ingredients, but it may not work as well if you want to represent your products as clinically crafted.

You already have a visual brand in place

. Do you have a website, a brand name, and/or a logo? It is critical to select packaging that complements what you are already working with, rather than working against it.

What else is going on in the market?

You should investigate what your competitors are doing. It's important to understand what's standard so you can find a design that stands out. That being said, there are times when it is best to stick with the status quo; for example, if consumers expect a shampoo to be sold in bottles rather than laminated envelopes, you may want to reconsider going against that expectation.
Product packaging types to consider
Depending on the products you sell and how they are delivered to the consumer, you may require one of three types of product packaging. Let's take a look at them one by one.
Product packaging 
You must package the product itself. This immediately safeguards whatever you're selling. Consider the shampoo bottle, the candy bar wrapper, or the box for the jewelry you're selling. If applicable, the product packaging also includes the labels and/or hanging tags that will be attached to the products.
Because the immediate product packaging will most likely be the focal point, this is where you should begin. What will entice customers to pick it up if they see it on a shelf? Both functionality and aesthetics are important in this case.
Outer product packaging 
What method do you use to ship products to customers? Are you looking for envelopes, boxes, or something else? Or perhaps you're distributing shelving boxes to boutiques or small local merchants in order to sell those candy bars; what do those boxes look like?
The box or packaging in which your products will be delivered is known as outer product packaging, and it is especially important for shipping purposes. Branded mailing boxes, envelopes, and stickers are frequently included. This allows you to make a stronger impression from the moment the customer sees the package in the mail.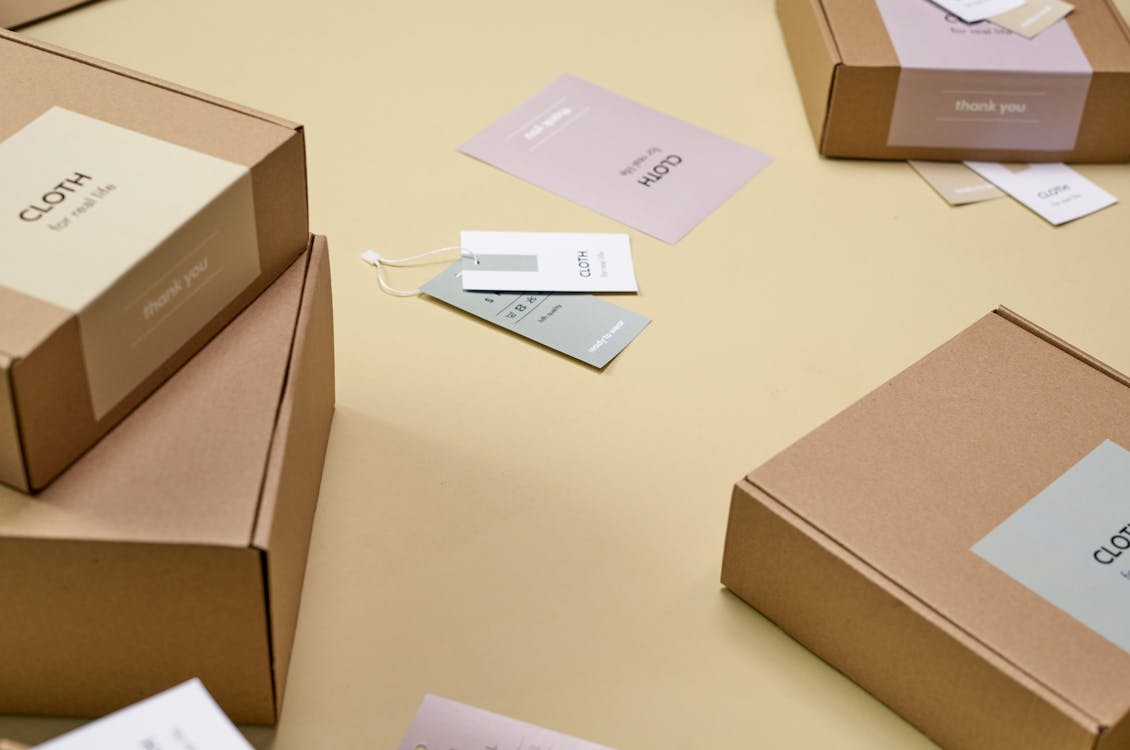 Inner product packaging 
If you require outer product packaging, you may also require inner product packaging. This includes anything other than the product itself that goes inside the outer box or envelope. Shredded paper or packing peanuts, mailer inserts to keep everything in place, instructional booklets or pamphlets, and other materials may be included.
The main point to remember here is practicality. How can you ship that glass bottle of lotion without it breaking? Wrapping the item in a cloth bag or paper and then stuffing it with shredded paper, for example, can help to protect it.
All of this can be branded, giving your packaging a more uniform look and making your brand appear more established and professional. It also gives you control over the full customer experience when it comes to how they're receiving your product.
How to package a product: 6 things you need to place on your boxes
When you're designing product packaging, there are six things you should keep in mind at all times. These are some examples:
Product names

. What is the product's name? It must be printed on the packaging.

Copy that explains what the product is

. This could be a simple tagline or a small section on the label detailing exactly what it does.

Instructions on how to use and care for it are included

. Clothing, for example, maybe handwash only, or you may be selling camping gear that is only suitable for certain weather conditions. Clearly state this on the product.

Imagery

. This includes brand logos as well as any product-specific artwork created by your designer.

Safety labels, nutrition labels, and bar codes are examples of the required information

. Depending on what you're selling, some industries and locations have specific requirements for this type of information. Check again to see what you need to put on your packaging.

Information as needed, such as batch numbers

. Even if the numbers are obviously changing, you must ensure that there is a space somewhere on the packaging for this.
Six essential steps for designing e-commerce packaging
The brand packaging process consists of six major steps. Let's take a look at them one by one.
1. Conduct research
Do your research ahead of time. This was discussed earlier in the post. You must understand who your target market is, what is currently happening in the market, and what you want your packaging to say about the product you are selling. Competitor and market research will be important here, as will creating buyer personas for each individual product if you haven't already.
Branding and packaging are inextricably linked. Take this into consideration.
2. Determine the type of product container you want to use
Before making any other decisions, you should consider the type of product container you will require. Among the various product packaging options are:
Boxes

Cans

Bottles

Glass jars

Laminated envelopes

Wrappers 

Cartons

Cardboard tubes
Remember to select something that meets all of the following requirements:
It looks great

It corresponds to what users would expect if there was an industry standard.

It serves a purpose

It will ship successfully.
3. Determine what you need.
After you've decided on the specific types of product containers you want to use, it's time to consider everything else you might require.
Consider both the practical and aesthetic aspects of getting your product from your store to the customer. You will require a shipping container, such as a mailer envelope or box. But what else will you require to ensure that everything arrives in good condition and that the product is well-protected so that the customer has the best possible experience?
You may also want to purchase branded packing tape in addition to the branded shipping box. And perhaps you have standard product kits that could benefit from a custom mailer insert, or you realize that you require packing peanuts or shredded paper to ensure that your products arrive safely to the customer.
Consider everything and make a list of everything you require. It will be crucial in the future.
4. Create the packaging
This could be a one-time expense in which you hire someone to design the packaging you require, including the outer and inner packaging.
Make it clear what color scheme, imagery, and overall aesthetic you want to achieve during this stage. It's critical to make it clear what your product is so that if someone happens to see it on a shelf, they won't be left scratching their heads. Remember to include all necessary information on the packaging, such as batch numbers and/or safety information. If you forget it the first time, you'll have to start over (and pay for a do-over).
Many printing companies provide packaging design services, making the process easier for you. You simply tell them what you want, and they will handle the more technical logistics. It's also a good idea to look into graphic design packaging services on platforms like Fiverr. There are a plethora of talented designers available who can create visually appealing package designs.
5. Obtain feedback
When the design is finished, it will be sent to you for approval. Examine it thoroughly. Check all of the copy to ensure that it is exactly how you want it and that it looks as you envisioned (or better!).
Get feedback once you've received the final designs. Inquire with peers who have experience in the e-commerce or retail industry and want you to succeed or friends whose design tastes you respect. If possible, ask members of your target audience, whose opinions will be very important when the product is actually purchased.
This is a big decision, so make sure you're sure before you start ordering.
6. Start the printing process
Once you're ready to have your packaging created, all that's left to do is find a printer and get things moving. The following options are all good choices for having your products packaged:
Sticker mule

for product packaging labels to go on external packagings like boxes or jars

UPrinting

and

Packlane

for custom designs that include product boxes, mailer boxes, and shipping boxes

PrintingForLess

for everything from custom candy wrappers, gift card holders, belly bands, hang tags, folding cartons, and inserts

Lumi

for tape, tissue paper, mailer bags, laminated pouches, cotton bags, and envelope sleeves. 
Many printers allow you to have a prototype made before ordering a full batch. Take advantage of this to make sure everything is perfect.
Conclusion
The process of designing product packaging is obviously complex, and it should not be taken lightly. It has the potential to make or break your brand, so make the decision wisely. The best packaging will strike a balance between cost-effectiveness and visual appeal while remaining true to your brand and what your target audience wants to see.
Summary: How do I design packaging for my product?
Do your research

Pick a product container

Get other essentials (branded packing tape, shredded paper, etc.)

Design the packaging

Get feedback

Start the printing process
For more tips on improving your store, check out our other articles here on Autoketing. 
In case you're looking for trustable applications to your Shopify Store, check for the reference resource Shopify App Store  
Please keep in mind that the Autoketing Team is always ready to support you. We are a Shopify trustworthy partner.
Autoketing is constantly looking for new updates and the best solution for online business on Shopify Store.
If you need any assistance or questions, please do not hesitate to reach out. We're always there to help.
For more articles, find us here.
Email: [email protected]
Social Media: