How your store can benefit from personalized product recommendations
history July 16, 2021
local_library 21912 minute read
Store owners, marketing managers, business development executives – personalized product recommendations are the future of selling online.
Personalizing your customers' buying journey by recommending products they will find most relevant can help improve their shopping experience.
And a personalized shopping experience means you will spend less marketing dollars trying to persuade them to make a purchase.
On top of that, your chances of making good sales and driving higher revenue increase by multiple folds. We have statistics to back this up; we will get to them shortly.
Unfortunately, many businesses are unaware of this simple truth. Implementing product recommendations to their store is only an afterthought, that is if they ever think of it.
But you don't have to be one of them!
In this post, we will be dissecting personalized product recommendations in their entirety.
What are personalized product recommendations?
A picture, they say, speaks a thousand words. Thus, we will be starting with an illustrative example.
If you went over to Amazon and searched for, say, a Dell laptop, you would see something like this beneath the product you clicked.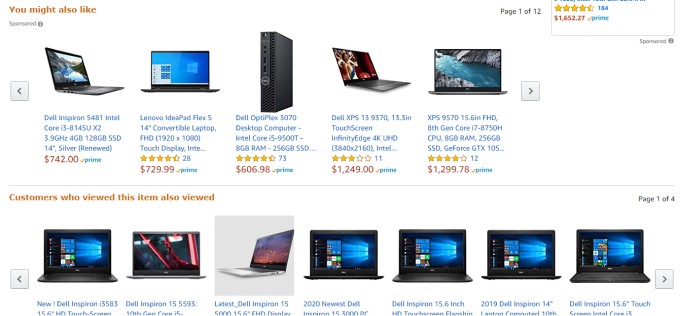 Basically, Amazon is saying:
If you viewed this Dell laptop, you might also like this other set of products.

Also, customers that viewed that Dell laptop also checked out these other products. You might as well like them.
This is product recommendations in action.
And by the way, Amazon has long mastered the art of personalized product recommendations. As a matter of fact, product recommendations account for 35% of the eCommerce giant's sales.
Here's another mind-boggling statistic: Netflix makes 75% of its sales from recommending movies and shows to its customers.
That's grand!
Apparently, if you haven't taken product recommendations seriously yet, you are leaving a lot of money on the table.
Personalized product recommendations don't end at "what a customer might like" and "what other customers viewed", like in Amazon's example you just saw.
You can make recommendations to customers based on:
Best selling products
Frequently bought together (complementary products)

Trending products

Featured products

Most viewed products
Shortly, we will be discussing, in detail, the different approaches to product recommendations.
Benefits products recommendations have to offer
Implementing personalized product recommendations on your website will cost you money.
It will cost you time, too. So, why bother?
The truth is that the benefits recommendation engines have to offer far outweigh whatever immediate cost they might bear.
Here are some of them:
Improved Average Order Value (AOV)

Better user engagement

Higher conversions

Reduces cart abandonment

Optimized inventory

Saves you time
Better user engagement
Imagine you are on your favorite movie streaming website like, say, Netflix, trying to find a title you'd enjoy.
After what seems like endless hours of searching, you find nothing. You will very likely leave Netflix and go somewhere else, right?
The same holds true for e-commerce stores – if customers don't find what they are looking for within the shortest possible time, they will likely take their money elsewhere.
You definitely don't want that to happen.
Recommending personalized products to your visitors helps to keep them more engaged on your website.
And engaged visitors tend to stay longer on a website. The longer they stay, the lesser your bounce rate will be. The lesser your bounce rate is, the higher your website would rank on Google.
Higher conversions
You want more prospective customers to sign up for your mailing list, don't you? Well, there are several ways to go about this.
However, few are as effective as embedding a personalized product into your opt-in form.
When you eventually send subscribers your product catalog via email, they will most likely make a purchase.
Isn't that the goal after all? To make more sales for your store?
Reduced cart abandonment
Every year, online merchants like you lose trillions of dollars to cart abandonment problems. As of 2016, a total of $4.6 trillion worth of merchandise were abandoned in shopping carts.
And, definitely, those figures are growing.
Long story short: cart abandonment is a pretty serious problem. But fear not, you can combat it with personalized product recommendations.
One tried-and-tested tactic is using exit-intent popups to show abandoning visitors products they will most likely be interested in, just when they move to leave your website.
For maximum conversions, whatever product you recommend should be based on their browsing history and personal preferences.
Alternatively, instead of showing recommended products, you can offer a discount, coupon, free shipping, etc. just to entice them to complete their carts. You could as well embed a personalized message that speaks to them.
The possibilities are limitless – your imagination is only what limits you.
Optimize your inventory
To succeed in business, you have to offer customers what they actually want, and not what you think they might like.
This simple principle applies to all types of businesses, e-commerce included.
Offering your customers what they actually want helps you avoid stocking up products nobody is ever going to buy.
This is also where personalized product recommendation comes in handy. It gives you a comprehensive insight into what your customers are actually looking for. Then with this understanding, you can make a sound judgment as to which merchandise to stock up.
Saves you time
One of the toughest, time-consuming tasks you can ever embark on as an entrepreneur is manually setting up your store for upsells, cross-sells, and product suggestions.
Even if you successfully undertake such a task, your customers might still find irrelevant product suggestions coming at them. As such, they won't hesitate the slightest bit to leave your website.
Thankfully, an eCommerce recommendation app like Recommended Product – Sales can take away these troubles. All you have to do is set up your merchandising rules once, and our engine goes to work automatically creating personalized recommendations for your customers.
Hence, you have time to focus on what really matters: growing and efficiently managing your business.
Best way to showcase personalized product recommendation 
If customers don't get to see your recommendations, what point is it then? To see meaningful results from your web personalization efforts, the recommendations you make have to be highly visible.
This means placing them strategically across your web pages for customers to see.
So, where, ideally, should you incorporate recommendations?
1. Product Page
This is the best place to upsell and cross-sell a prospective customer. The reason is, any prospect on your product page still has his/her options open. As such, their buying decision isn't set yet.
They are very much receptive to alternatives to what they have in mind.
This makes your product page one of the best places to weave in recommendations.
2. Home Page
A visitor that's on your homepage scrolling down and up is probably wondering if you have what he's looking for.
If you don't capture their attention quickly by showing products that will likely match their interest, they might bolt.
That is why the home page is ideal for placing recommendations such as "best selling products", "new arrivals", "discounted products", etc.
Then, as they start to interact with your products, the recommendation engine also starts to understand their preferences and, hence, make more personalized recommendations.
3. Cart Page
Remember when we talked about how recommendations can help increase your store's average order value? The cart page is where it happens, actually.
It is the best place to recommend complementary and related products.
Tips to increase product recommendation sales with Recommended Products – Sales by Autoketing 
Show customers your best sellers

Figure out what's trending in your product line

Display current discounts and sales

Rely on a customer's purchase history for better suggestions
In conclusion
Implementing personalized product recommendations to your store will set you miles apart from competitors.
It will bring you more sales than you ever wanted.
Get started today with Recommended Products – Sales for free and experience, first-hand, the true power of personalized product recommendation.
For more tips on improving your store, check out our other articles here on Autoketing. 
In case you're looking for trustable applications to your Shopify Store, check for the reference resource Shopify App Store  
Please keep in mind that the Autoketing Team is always ready to support you. We are a Shopify trustworthy partner.
Autoketing is constantly looking for new updates and the best solution for online business on Shopify Store.
If you need any assistance or questions, please do not hesitate to reach out. We're always there to help.
For more articles, find us here.
Email: [email protected]
Social Media: