How to optimize on-page SEO for your e-commerce websites?
history June 26, 2021
local_library 50970 minute read
On-page SEO can help your e-commerce website rank higher, engage more potential customers, drive more traffic, and convert more leads.
People typically start their product research with a search (usually on Google).
To make an informed buying decision, they usually:
Compare prices and features.

Read reviews.

Search for tips and advice.
If your website isn't visible when people are searching for the products you sell, you're losing out on potential customers and profits.
In this article, we will share with you the best practices you can use to optimize your on-page SEO. Let's jump right into the details!
What is On-Page SEO?
On-page SEO (also known as "on-site SEO") is the practice of optimizing web page content for search engines and users. Common on-page SEO practices include optimizing title tags, content, internal links, and URLs.
Why is On-Page SEO Important?
On-page SEO leads to higher search rankings, increased traffic to your site, and more conversions. The results of on-page SEO take time, but once you got your on-page SEO strategy right, it can make your online rankings and sales soar.
On-page SEO ranking factors you should optimize
With on-page SEO, you have various ranking factors. You might want to optimize all these factors. Taking the time to optimize each of these factors will improve your rankings in search results and make your website more competitive and difficult to beat.
On-page optimization factors you should focus on include:
URL

Title tag

Meta description

Heading tags

Alt tags

Keywords

Content

Speed

Internal linking

Images

Mobile-friendliness
Example of some on-page SEO action items include:
Speeding up your website

Cleaning up your site's code

Optimizing your title tags and meta descriptions

Writing in-depth, quality content

Streamlining your site's navigation
Let's find out how to do on-page optimization for each of these on-page SEO factors!
1. Custom Reviews
Customers nowadays are very interested in the opinions of others, especially from customers who have bought and used those items.
They will search for many websites and will pay a lot of attention to how the product is rated by users.
Obviously, the site that gets the most reviews, and the high average ratings, will get more attention.
And equally important, the rating for this score can also be displayed on Google search results. The appearance of Rich Snippet will increase the attractiveness and credibility to pull users to the website. That means it will increase click to page rate.
Thus, integrating customer reviews into Google search brings two main benefits:
Increase attractiveness, bring more potential customers to your website, increase CTR.

Increase reliability, if the ratings are high and there are many positive comments, this will help customers feel secure and will contact to buy your products. Improve Conversion Rate. 
Tips for collecting and using customer reviews.
Build or purchase an automated e-mail promotion system that asks for customer product reviews a few weeks after purchase.

Remind your customers to leave reviews by adding

Popups

reviews.

After-sales to any customer should have after-sales for them as a discount on the next item in exchange for their review.

Don't worry too much about negative comments as they will be better than positive ones.
After you got lots of customer reviews, don't hesitate to display them with Product Reviews Autoketing. All you need is to install the app, go to the dashboard → Google Snippet → switch On and let the app do its job. 
2. Products Video
To do this is not easy, but it is something worthwhile for an e-commerce website. Many websites have applied this, but they have not been fully exploited yet. To put up product videos quickly and properly, Zappos is a good example.
Product review videos help get lots of links and rich feedbacks. In addition, videos will show customers product uses that images cannot do (especially for high-end products and technical products). Looking at the image above, we can easily see the highlight of this video on the Google results page.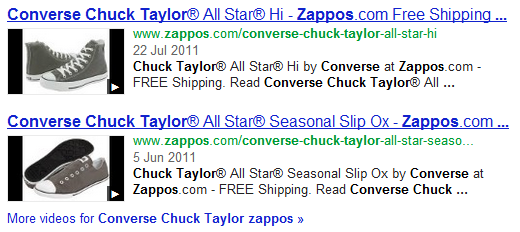 3. Rel="next", Rel="prev" and "view all"
One of the problems that plague large e-commerce websites is how to deal with pagination effectively. For example, a website has a product catalog with thousands of products divided into many pages, you want all of them to be indexed and crawled by Google regularly. You can use the rel="next", rel="prev" and "view all" attributes. This helps Google better understand pagination and links to main pages.
4. Q&A content
To have unique content on product pages at scale, integrating product-focused questions and answers is an opportunity to engage customers. Some benefits of this type of integration:
Scalable, user-generated content published on product pages.

Improve ranking

Customer concerns are quickly resolved through answers

Encourage companies to spread the brand to stimulate customers
5. Social Share
Creating social sharing buttons on product pages is encouraged during the purchase process:
A thank you note or confirmation page is required after a successful purchase

Send a follow-up email or mail e.g. follow us on Twitter, like us on Facebook, etc…

After a customer writes a review provides more options to share via social networks
'Open graph' tag
A new addition that should be added to an e-commerce website is the 'open graph' tag. This tag allows you to add more details specific to the content shared on Facebook. Currently, Facebook is the most loved and used social site in the world, so it is also a lucrative land for merchants. So be sure to do all you can to optimize for it and define your content thoroughly before sharing.
6. Page Speed
For e-commerce websites, page load speed is very important because it can directly affect rankings and customers. Customers will never spend more than 20 seconds waiting for the website to load, instead, they will go to another provider. It is necessary to improve website performance to minimize this situation. But the bottom line is that you have to care about website speed for customers, not SEO.
7. Search support
Creating a 'search box' on an e-commerce website is essential, it will help a lot in improving the user experience. Here are some tips for creating a 'search box':
Always track searches using CMS or Google Analytics.

Track how many people search, then immediately leave the site, try to lower this number.

Check that the results in the search are really good and right content.

Regularly check if the 'search box' is still working properly.

Place more images next to the search results.

Including keywords like special promotions or discounts will help increase clicks.
8. Big and eye-catching purchase button
This is very important and necessary for an e-commerce website, it greatly affects business revenue. We need to clearly show customers what to do when they want to buy any product.
9. Reliability
If the e-commerce website supports credit card payment services, it will be much easier for customers to pay. However, this sometimes also makes them wonder about being scammed or their personal information is not safe. Therefore, the website needs to be registered with a high-trust authentication intermediary service.
10. Pictures
Using high-quality images is essential for any e-commerce website. If the images on the website are taken directly from the business will attract the attention of customers than the images copied from the internet. Some advice:
Name the image, for example, autoketing-logo.jpg instead of logo.jpg

Add 'ALT' tag to all product images, the content of the 'ALT' tag is automatically taken from the product name in CMS

Submit image sitemap to Google Webmaster Tools
11. Meta Title
The title is very important, to remember the name of thousands of product pages for an e-commerce website. A meta description doesn't influence your on-page optimization directly. It's a feature that helps users, however, learn more about your page. The fact that Google will bold user search terms that appear in your meta description is another reason to optimize your meta description for on-page SEO.
12. Generate new SEO On-Page Content
The Google algorithm is not fixed, as it is updated regularly to better reflect user search intent and new search habits such as voice search. Because the algorithm evolves, brands must be willing to adjust their SEO methods regularly to meet those needs.
Revisit your previous content regularly, as well as generate new content to stay relevant. Keep in mind, however, that while the algorithm changes, the goal of providing great material to people does not.
Final words
That's it! On-page SEO can help your business grow by leaps and bounds, as well as boost your brand image in the web space. I hope this article has provided valuable information about how to optimize your on-page SEO. Please feel free to leave comments below for a further discussion on this topic!
For more tips on improving your store, check out our other articles here on Autoketing. 
In case you're looking for trustable applications to your Shopify Store, check for the reference resource Shopify App Store  
Please keep in mind that the Autoketing Team is always ready to support you. We are a Shopify trustworthy partner.
Autoketing is constantly looking for new updates and the best solution for online business on Shopify Store.
If you need any assistance or questions, please do not hesitate to reach out. We're always there to help.
For more articles, find us here.
Email: [email protected]
Social Media: