Five Best Ways to Personalize Your Customer Service
history October 18, 2022
local_library 13818 minute read
The recent accelerated shift from the physical world to the online world has forever altered consumer behavior. Consumer exposure to e-commerce leaders' sophisticated personalization practices has raised the bar for everyone else – digital natives, brick-and-mortar brands, and even behind-the-scenes producers or suppliers.
According to McKinsey, 71% of consumers expect businesses to provide personalized interactions, and 76% are frustrated when this does not occur.
The good news is that you can personalize your customer service. Here's some more context before we get into the specifics.
What is personalized customer service?
While personalized marketing is directed toward customer personas, personalized customer service provides each individual with a unique and personal experience. Customers feel known, heard, and appreciated when they receive personalized customer service, no matter where they are.
In the NOW Customer era, value-added customer service provides digital-first convenience as well as empathetic, personalized service. Customers now expect you to know not only their name but also their purchase and conversation history with your brand. They also expect an immediate and personalized response to their needs.
Why personalized customer service is important
Customers nowadays expect brands to provide personalized service. According to Gladly's 2021 Customer Expectations Report, 82% of consumers will spend more money with brands that provide personalized customer service experiences. Only 19% of customers believe customer service exceeds their expectations. When brands fail to meet expectations, customers feel neglected—a significant challenge that can cost businesses millions of dollars.
Brands that provide a truly personalized customer experience will stand out in an increasingly competitive marketplace. Gladly surveyed consumers, and the most important driver of an exceptional experience was having one seamless conversation across all channels.
Following that, we'll look at the top five ways brands can empower their customer service teams to meet the NOW Customer's expectations and provide a personalized experience.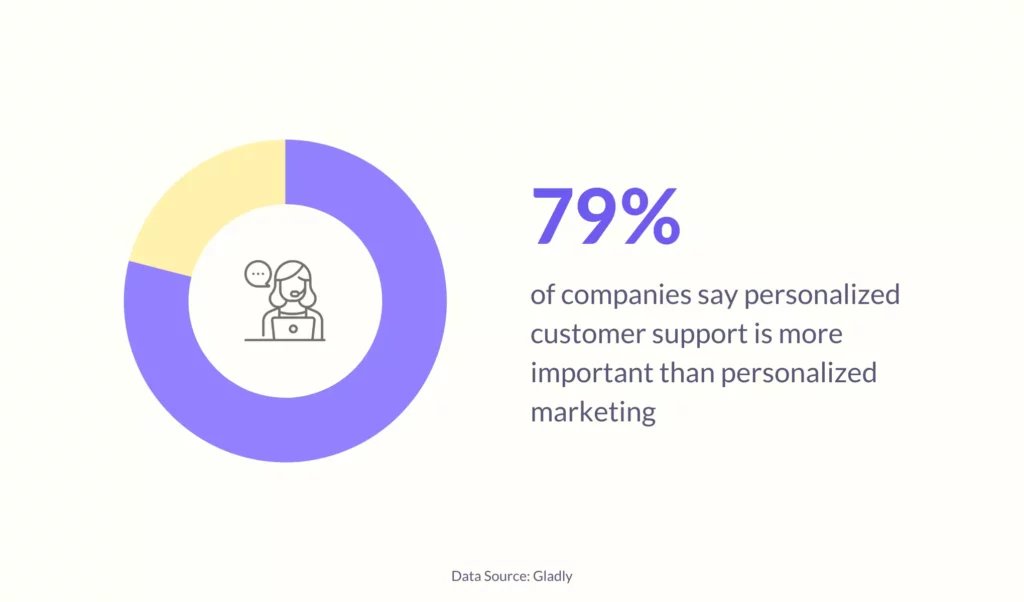 Five ways to personalize your customer service
When a customer walks into a store, a good salesperson greets them warmly, remembers who they are, picks up where they left off in the selling process or is ready to answer the customer's questions without delay. The NOW Customer not only expects but also demands, the same experience online. Here are some ideas for reimagining, optimizing, and personalizing customer service:
1. Enable data-informed conversations
By leveraging data in a robust customer relationship management (CRM) system and improving consumer profiles, brands can personalize customer service. Reviewing your customer journey maps is a good place to start. Identify opportunities to track key touchpoints or interactions, as well as data collection points that will allow you to have personalized conversations with your customers. What is the goal? To give your customers the impression that you are familiar with them, their preferences, and their history with your brand.
Invest in technology and dependable customer service software to collect and organize your customer data into a centralized database. This includes, at a minimum, your customer's order history, preferences, and other relevant information that they have shared with you in a data-capture form. Collect data from a variety of sources, including your website, social media channels, and other sources, to gain a better understanding of your customer's preferences and to learn from customer feedback. For example, you can solicit feedback via a survey on your website while also running a poll on social media about your favorite product features.
Machine learning can process and analyze large data streams to identify actionable insights. Machine learning can also help agents with predictive analytics by identifying common questions and responses and revealing things that agents may have missed during customer interactions. This actionable data and learnings can be used by agents to personalize their interactions with customers.
The more information you have about your customers, the easier it will be to offer them relevant products and personalized support. Your customers will feel appreciated, and your customer service representatives will become more effective at addressing and resolving their concerns in a personal manner.
2. Empower your customer service agents
It is critical to equip your customer service team with the necessary tools. Effective tools, such as a knowledge-sharing platform that provides agents with a central location to store and access frequently asked questions (FAQs), ensure that your customer service is consistent, timely, and personalized. Additional tools can be used to support omnichannel contact centers, which allow a single agent to access all interactions with a given customer regardless of the communication channel.
Agent assist technology employs artificial intelligence to automatically interpret the customer's question, search for knowledge articles, and display them on the customer service agent's screen while on the phone. Many simple tasks can also be automated by brands using robotic process automation (RPA). Automating bots to focus on processes that take the longest or have the most clicks between systems, such as updating records, managing incidents, or providing proactive outreach to customers, can significantly reduce costs while improving efficiency and processing time.
Another tool for improving customer experience is natural language processing (NLP). NLP software transcribes phone, email, chat, and SMS interactions and then analyzes the data for trends and themes. AI has improved the accuracy and flexibility of NLP systems, allowing businesses to use chatbots to provide answers to simple questions based on previous customer conversations. Agents can then concentrate on more detailed and complex inquiries that necessitate human interaction.
These technologically enabled processes can save agents and customers time, provide critical just-in-time information to agents, and reduce average handle time, thereby lowering costs. There are additional ways for brands to improve human interactions in order to provide an exceptional, personalized experience.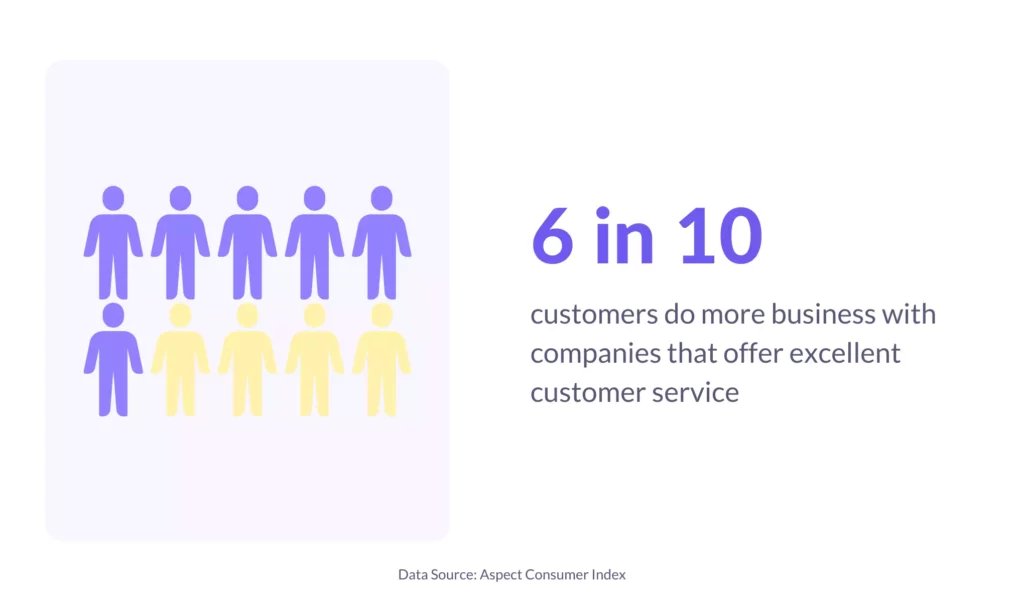 3. Enable personal connections
With AI advancements, brands hope to guide customers to self-service resolution, reducing the load on human agents. As more customers use self-service tools like chatbots to resolve issues, those who do contact customer service will have more complex issues.
According to a 2021 Simplr study, 95% of shoppers who interacted with chatbots said their live chat experience would have been better with human assistance. Another significant finding was that a smooth transition from bot to human makes 60% of customers more likely to continue doing business with the brand. Customers don't mind switching channels as long as their problem is resolved in a single, continuous interaction.
4. Use automation to guide customers 
According to recent Gartner customer experience research, proactive service prompts additional engagement, often through assisted channels. In fact, 38% of those polled used digital-assisted channels like chatbots. A well-designed chatbot experience can effectively engage customers, particularly on first contact and as a means of guiding customers to self-service resolution.
To incorporate automated assistance, brands can direct customer journeys to the chatbot via their website. The homepage, main customer service landing page, FAQs, and knowledge articles are all important pages. To attract customers' attention and encourage them to engage in self-service resolution, the chatbot should be pre-populated with common self-service issue types and questions.
When relevant, use data collected through backend systems for the chatbot's pre-populated responses, which include personal information and engagement history. Additionally, use the chatbot to gather important information about customer issues before routing them to live assisted service.
Chatbots, when used correctly, can help your customer service team by answering basic questions and directing customers to self-service support. When your live agents are not bombarded with simple questions, they have more time to assist customers with more complex issues.
5. Live chat for in-store experience 
The ability to get in-the-moment help and consultation as they try to buy is one of the elements of the in-store experience that consumers demand in online experiences. With advances in omnichannel analytics, brands can use data about individual consumers and their shopping habits to personalize the online shopping and customer service experience.
Brands are constantly coming up with new ways to replicate in-store concierge-style services online using technology and data-informed customer service. Live chat is now an essential component of the online shopping experience, allowing businesses to humanize their brand online and customers to engage with a brand at the moment. The term "conversational commerce" refers to this type of consultative and conversational feeling or experience.
Retailers can reimagine the online shopping experience for their customers with conversational commerce, allowing them to engage at critical points in the buyer consideration and purchase decision journey. For example, you can use live chat on product pages to provide customers with immediate answers and to make proactive product recommendations based on previous purchases. In some cases, a live agent can also assist the customer in making a purchase directly within the conversation by utilizing click-to-buy integrations.
Live chat is a two-way communication channel that enables brands to provide a personalized, consultative online shopping experience. The involvement improves customer service, personalization, and convenience – all of which typically aid in moving customers quickly through the purchase funnel.
For more tips on improving your store, check out our other articles here on Autoketing. 
In case you're looking for trustable applications for your Shopify Store, check for the reference resource Shopify App Store  
Please keep in mind that the Autoketing Team is always ready to support you. We are a Shopify trustworthy partner.
Autoketing is constantly looking for new updates and the best solution for online business on Shopify Store.
If you need any assistance or questions, please do not hesitate to reach out. We're always there to help.
For more articles, find us here.
Email: [email protected]
Social Media: