8 Email list building strategies to help your small business grow
history September 18, 2021
local_library 19902 minute read
To survive in today's competitive landscape, you must continue to grow. As a result, businesses use a variety of strategies and tactics to maintain their growth.
Email list building has historically been one of the most successful and proven methods for growing small businesses. This is due to the numerous benefits of having a high-quality email list. An email list provides you with direct access to people who want to hear from your company, as well as the ability to:
Inform your target audience

Prospect conversion

Provide updates

Conduct surveys

Send out targeted messages.

Increase revenue
So, as you can see, building an email list is a low-cost but effective strategy for growing your small business. Here's a quick rundown of the eight email list building strategies you can employ to achieve success this year:
Create enticing, subscribe-worthy content  

Hold a promotion or contest 

Offer lead magnets (checklists, ebooks, etc.)

Use pop-ups to encourage email signups.

For email list building, experiment with Facebook leads ads.

Build landing pages to optimize your email list.

Use social media to promote your email list.

Include social media buttons in your emails.
Now, let's take a closer look at each of these methods for growing your email list, so you can see how to do them and why they work.
1. Create compelling content
Why would anyone want to give you their email address, especially in an age when inboxes are flooded with tens of thousands of emails every day?
People will only give you their email address if they believe you will add value to their lives. And one of the most effective ways to add value to anyone's life is to provide them with content that speaks to them.
Consider this: Have you signed up for newsletters from publications such as The Washington Post, Forbes, or Medium?
We do this because we value the information provided by these outlets and want to stay informed.
Similarly, if you want to be successful with email list building, you must create content that people care about, content that simplifies their lives provides solutions, and even entertains them.
The first step in creating compelling content is to understand who you're writing for. For example, if your company sells digital design solutions, you must understand who your customers are. Are they college students or small businesses? Are they looking for a quick fix or long-term solutions? Where do they call home? What is their source of income?
By asking such questions, you can develop buyer personas: ideal fictional people who represent your target customer. And once you have that image in mind, you can create content that is tailored to their lifestyle and problems.
When you've determined who you're writing for, you should create content that is tailored to their lifestyle, interests, and problems.
You've essentially created a basic funnel in which the top of the funnel journey begins when a visitor reads your compelling content. Those in your target audience will naturally relate to your content, moving them down the funnel and increasing the likelihood of them subscribing to your mailing list.
2. Hold a promotion or a contest
Again, building an email list is all about providing value and offering incentives. Running a contest is one of the simplest and most straightforward ways of incentivizing people to share their email addresses. People enjoy winning, especially when all you have to do to be eligible is share your email address.
You can hold a contest in a variety of formats, including:
A photo contest in which participants submit their best travel/food/pet/selfie photos.

A video contest in which people share funny fails, their best skating tricks, song covers, and so on.

A contest in which participants submit their favorite poem, short story, or amusing anecdote.

A sweepstakes format in which participants only need to enter their email addresses to participate.
After you've decided on the format, you'll need to decide on the prizes you'll be awarded.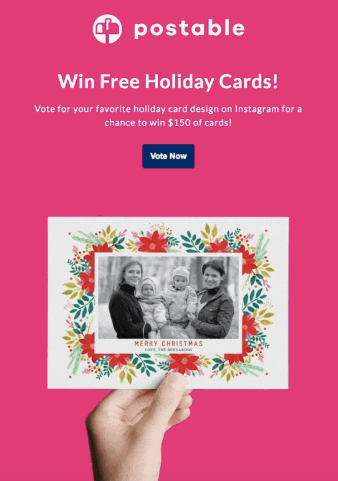 Although cash giveaways are obvious, you will benefit more from organizing a contest that is directly related to your business. As a result, if a participant is interested in the prize, they are more likely to be a good customer.
If you know who your target audience is, you can design the prize so that it is only appealing to that group. For example, if your company sells eco-friendly sneakers, the obvious choice would be to give away a pair of the most recent sneakers in your line. A cheaper and still relevant prize could be recycled coffee mugs, handcrafted jewelry, or organic cotton activewear.
3. Provide lead magnets
Lead magnets are, as the name suggests, offers that you make to potential customers in exchange for personal information such as email addresses. Lead magnets are an excellent way to raise brand awareness and connect with prospective customers who have never heard of your company.
Prize giveaways, which were mentioned in the previous section, are one type of lead magnet. Here are a few more lead magnet examples:
Checklists

Ebooks

Cheatsheets

Product samples

Discount coupons

Templates

Free trials

Case studies

Webinars

Podcasts

Premium content
When creating lead magnets to build your email list, there are a few things to keep in mind to design an effective lead magnet:
Most people sign up for lead magnets because they are looking for a quick solution to a problem. As soon as they give you their email address, send them an email with the promised content or confirmation that what you promised is on its way.

People will be hesitant to provide their email addresses if your lead magnet is perceived as highly valuable. Make sure the copy surrounding the lead magnet is crisp and explains the promised value succinctly.
4. Use pop-up forms
Pop-up forms serve a very simple purpose on your website. They are designed to capture a visitor's attention and entice them to click on a link or provide their email address.
Pop-ups have a bad reputation for being intrusive, but websites use them for one simple reason: they have a high conversion rate. Additionally, you can make your pop-ups less intrusive by using lightbox modals and automated timers (so that pop-ups appear only after a visitor has shown interest in the page they're browsing).
Visitors to your form can sign up for your newsletter, product reviews, contests, or any of the previously mentioned lead magnet variants.
Make sure to use clear headlines, provide context, and offer real value in your pop-ups. Pop-ups are most effective when you design them to catch interest; otherwise, you can risk a visitor getting annoyed and never visiting your website again.
5. Create Facebook lead ads
Small businesses frequently underestimate the effectiveness of Facebook advertisements. With a monthly user base of 2 billion and a variety of targeting options, Facebook can be a very effective tool for finding potential customers and building email lists.
Facebook lead ads are even more effective for email list building because you can set up a form that potential customers can fill out without leaving the social media platform.
Your advertisement can include anything from an ebook to a checklist, a product sample to a detailed guide. As long as the lead magnets are unique to you, you can expect good engagement if you've targeted the right audience—Facebook lead ads are effective.
6. Set up landing pages
Landing Pages are call-to-action pages designed as part of marketing campaigns to collect email addresses or other vital visitor information.
If you created a campaign specifically to build an email list, the advertisements, content, and lead magnets serve as top-of-funnel activities to entice visitors.
Landing pages are bottom-of-funnel tools in this context, where an interaction with a landing page results in either conversion or abandonment. In a sales context, landing pages are the final stage—a make or break (convert or abandon) scenario.
Therefore, it's very important to get your landing pages right and set them up for an optimum conversion rate. To make landing pages captivating, there are a few things you can do:
Use a single, prominent CTA button.

Use customer-centric copy.

Add social proof to boost credibility.

Use descriptions that explicitly state the benefits of the offer in question.

Split-test landing page for best results.
You can also expect to collect more email subscribers if you keep the following landing page design elements in mind:
Keep the number of links to a minimum to keep the focus on the CTA button.

Use white space and contrast to draw attention to the CTA.

To improve the user experience, group similar elements together.
With your landing page in place, you can re-route your Google ads or banner ads to direct visitors to the landing pages and build your email list.
7. Make use of your social media channels
Facebook lead ads are not the only way to use social media platforms to build an email list. All popular social media platforms have ad capabilities that can be used to target specific people and encourage them to provide their email addresses.
When deciding which social media platform to use for email list building, consider the differences between them as well as the types of behavior people exhibit on them.
LinkedIn, for example, is effective for B2B advertising, with 94 percent of B2B marketers using it as a content distribution channel.
Instagram is an excellent platform for advertising consumer goods and Google search results ads. Snapchat has also proven to be more effective at targeting teenagers than Facebook.
In addition to using paid ads, you can benefit from posting about your most recent campaigns. The method is completely free and leverages participation by leveraging your current viewership.
8. Add social sharing options in your emails
When compared to when they are not used, adding social sharing buttons can increase email click-through rates by up to 158 percent. Facebook, Twitter, Linked In, Pinterest, and Google+ account for the majority of these click-throughs.
Including social sharing buttons in your emails provides you with three benefits:
Attracting new potential customers

: allowing your email recipients to share your emails expands your reach beyond your current email list. If people enjoy your content, they may share it with their friends and coworkers, expanding the pool of potential customers.

Improving SEO ranking

: A large number of social shares will result in more traffic and links back to your website, which will improve SEO. The more people who share your content, the more likely it is to appear in search results.

Improving customer experience

: If a recipient enjoys the content you share, they don't want to go through the hassle of copying and pasting links. Providing social sharing options makes the process almost instant and users become more inclined to share content.
Don't overlook the importance of building an email list!
Building an email list does not have to be a difficult task. You'll be well on your way to growing your email list—and your business—if you learn the fundamentals of attracting people through great content, valuable lead magnets, and using the right platforms.
For more tips on improving your store, check out our other articles here on Autoketing. 
In case you're looking for trustable applications to your Shopify Store, check for the reference resource Shopify App Store  
Please keep in mind that the Autoketing Team is always ready to support you. We are a Shopify trustworthy partner.
Autoketing is constantly looking for new updates and the best solution for online business on Shopify Store.
If you need any assistance or questions, please do not hesitate to reach out. We're always there to help.
For more articles, find us here.
Email: [email protected]
Social Media: