Customer appreciation ideas: Thoughtful ways to thank your customers
history March 5, 2022
local_library 16008 minute read
Many new ecommerce businesses believe that their relationship with a customer ends with the final purchase. This is far from the case; maintaining a good customer relationship after an order has been placed is one of the most beneficial strategies a store owner can employ to achieve success. 
If you own a business, you might be wondering how you can easily cultivate a loyal customer relationship in a meaningful way. You might be surprised to learn that it is as simple as saying "thank you." Let's go over some of the best ways to thank your customers, as well as why you should do so in the first place.
What is customer appreciation?
Customer appreciation is the art of thanking customers and making them feel seen, heard, and valued. When you express your gratitude to customers, you create a positive momentum that will carry you both forward. 
Prioritizing customer appreciation is not only the right thing to do, but it also starts a positive chain reaction that can benefit all aspects of your business. Feeling and expressing gratitude benefits team members psychologically and contributes to a positive work environment where people come first. 
Businesses that show appreciation to their customers on a daily basis strengthen their relationships, which leads to higher retention and referral rates.
7 thoughtful ways to thank your customers
Some business owners believe they must wait until they have the budget or the time to consider ways to thank their customers. These leaders believe that once they've built a larger community and a stronger company, they'll be able to spend time and money thanking those who helped them get there. 
Even though it appears to make sense, it is not a winning strategy. 
When you begin by thanking your customers, you create momentum that will carry you through the ups and downs of running a business. Every day, no matter what your budget or time constraints are, there are creative, enjoyable ways to appreciate your customers. 
Consider implementing one of these seven customer appreciation ideas.
1. Thank you email
A thank you email is probably the simplest and most common way to thank a customer for their business. This type of email can come in a variety of sizes and shapes, with some containing as little as one line of text. Thank you emails, regardless of length or appearance, are a tried-and-true method of thanking your customers on a personal level. 
If you've done your checkout process correctly, you'll have captured those customers' emails, which you can use to send out thank you emails that also serve as order confirmation emails.
Thank you emails do not have to be sent out only after purchases; you can also thank them for: 
Making an account.

Subscribing to a newsletter.

Leaving a

review

on what they've purchased.

2. Send a handwritten note
In this day and age of texting and social media, people only send handwritten notes for important occasions. Maybe you'll get a thank-you note for a wedding gift you gave a friend, or maybe you'll get a condolence note after the death of a family member. 
Given that email is the primary means by which businesses communicate with their customers, it isn't always a meaningful way to express gratitude. Instead, grab a pen and write a heartfelt thank-you note. The happiness that someone feels when they receive happy mail is as palpable as the paper in their hand.
Make it a point to be specific about what you're thankful for, as well as open about what it means to you as a person. At the end of the day, businesses are made up of people; mentioning how their being a customer affects you, rather than just your business or company, is especially meaningful.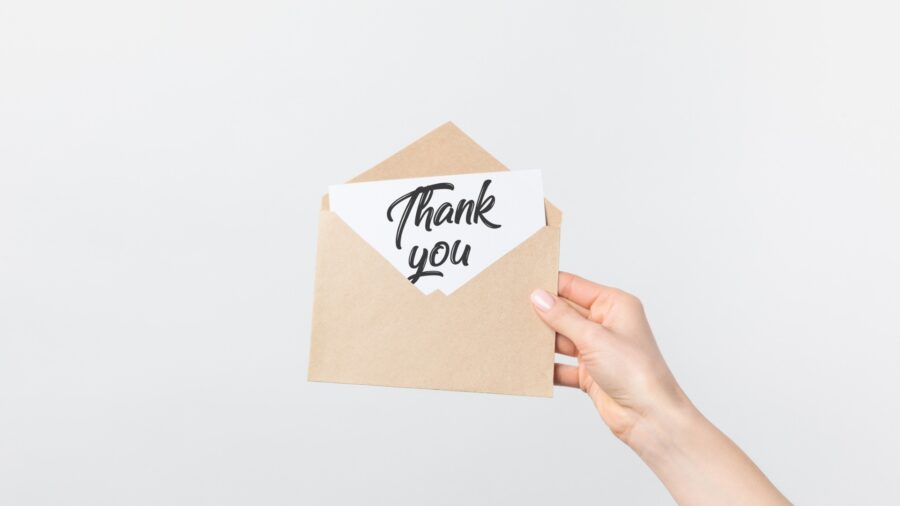 3. Free company merchandise
Your "thank you" doesn't always have to be digital in ecommerce. You can thank customers in a much more tangible way by printing and sending out free custom merchandise. 
You can do this in a variety of ways, such as including a free sticker with every purchase or providing free company merchandise (such as t-shirts or mugs) with your logo to customers. Customers will be surprised and excited to receive tangible products that they did not pay for, and they will most likely use these products to advertise your business. A customer, for example, can wear a t-shirt with your logo on it and expose your brand to everyone they see while wearing it.
Aside from being free advertising and a meaningful thank-you gift, you can directly integrate free company merchandise with the previously mentioned reward point system. In practice, this could look like a customer redeeming their loyalty program reward points for a free gift bearing your logo. While this type of thank-you gift may appear to require more time and effort, using a print-on-demand service can streamline the custom printing process and make it nearly as simple as any other digital option.
4. Replying to reviews and questions 
You can also thank your customers for leaving a review by responding to the review or sending a personalized email. This simple action can have a big impact, as it shows your customers that you value their opinions and feedback enough to read each one and thank them for leaving it. 
As you thank your customers for shopping, you can take advantage of the opportunity to answer any frequently asked questions about your products. You can accomplish this by linking to a FAQ page, including additional resources (such as setup tutorial videos) in your thank you email, or simply providing information about your support channels.
This not only prevents confused and dissatisfied customers from complaining about your product and service, but it also demonstrates that you're proactive and care about their experience—even after they've paid you. Taking the time to answer product questions can help you build customer loyalty while reducing the amount of work you have to do.
5. Organize a customer appreciation week. 
Plan a week dedicated solely to your customers as the ultimate thank you. Gather some of these ideas and poll your team to see which ones they prefer. You could even enlist the help of customers by asking, "How can we thank you?" "How can we express our gratitude to you?" They might have even more creative ideas than you do. 
The best part about turning their ideas into a customer appreciation week is that it can be repeated every year. People on your team and in your community will look forward to it every year, even if some of the celebrations change or evolve.
6. Recognizing and rewarding customer referrals 
Word-of-mouth marketing is one of the most powerful forms of marketing, but it is also one of the most difficult to control. However, you can reward and encourage customers who engage in word-of-mouth marketing by recognizing when they refer a new customer to your store. You can thank them personally for that valuable referral, whether they've personally directed a family or friend to your business or simply shared their experience on social media.
If a customer says something nice about your company on social media, you should thank them directly by replying to that message. Alternatively, if a customer stated that they were referred to your company by a previous customer, you can thank them via email and reward them with a gift certificate. 
As your company grows, you can streamline and automate this process by putting together a referral program in which customers can opt-in to earning rewards by sharing your company through their various networking channels. While this makes the process less personal, it is a good way to encourage customers to spread the word about your company while also thanking them in the form of compensation.
7. Support them with their hobbies, jobs, and businesses
The best relationships are those that are mutual. If your customers run their own businesses, ventures, or side hustles, assist them whenever possible. Purchase their products or services and participate in their initiatives as frequently as possible. 
Here are a few ways to express gratitude while also supporting their work:
Co-marketing campaigns with customers' businesses. 

Use social media or your blog to highlight their work. 

Request that a customer lead a workshop for your team. 

Support a cause that they are passionate about. 

Customers' businesses should be referred to. 

Co-host a virtual or in-person event. 

Hire a customer for a position in your company. 
Your customers show up for you every day, and nothing makes them happier than when you show up for them and their work.
Creating a customer appreciation plan 
You're ready to develop a more formal customer appreciation strategy now that you've collected a slew of ideas for thanking your customers. 
Sit down with your team and brainstorm all of the different ways you can say thank you on a daily basis. Create a budget for any gifts you may give, as well as examples for team members and a strategy for a customer appreciation week. 
You'll want to formalize guidelines for each of the customer appreciation ideas you're prioritizing, while also allowing team members to adapt to each new situation. Begin small. As you continue to say thank you, you will be able to devote more time than ever before to delighting customers.
For more tips on improving your store, check out our other articles here on Autoketing. 
In case you're looking for trustable applications to your Shopify Store, check for the reference resource Shopify App Store  
Please keep in mind that the Autoketing Team is always ready to support you. We are a Shopify trustworthy partner.
Autoketing is constantly looking for new updates and the best solution for online business on Shopify Store.
If you need any assistance or questions, please do not hesitate to reach out. We're always there to help.
For more articles, find us here.
Email: [email protected]
Social Media: