How to create social media content for our online store in 8 easy steps
history December 3, 2021
local_library 18366 minute read
It's never been more important for brands to have a social media presence, so it can be difficult to know what to post if you're just starting to post to your business's socials and figuring out your social media content for the first time.
Continue reading if you want to create high-quality social media content for your company's social media profiles. We'll show you how to create social media content for your brand's pages in eight different ways, so you can grow your following and, in turn, get more traffic and customers to your online store.
Let's get started.
Make your own social media content
Self-creation is one of the most effective ways to generate social media content. This is a great option if you want to be completely hands-on with your social media content creation, or if you're on a tight budget and want to keep your social media content costs as low as possible.
Creating social media content from scratch can appear daunting at first glance, especially if you have no prior experience. Although you can create great posts with software like Photoshop, if you don't have the know-how or the budget, it may not seem like the right fit. Don't worry, there's another option: Canva, which is much more user-friendly for beginners.
It's incredibly simple to create beautiful graphics for your social profiles with Canva, whether you're posting on Facebook, Instagram, Pinterest, Twitter, or any other platform. Because there are so many social media templates to choose from, it's an excellent choice for beginners.
If you're on a shoestring budget, Canva might just become your new best friend—at least when it comes to creating social media content. It's completely free to use, and you can create as many social posts as you want!
However, some premium design options, such as templates or images, require an upgrade to their paid plan in order to use. However, because this option is less expensive than outsourcing, it may be worth the small investment if the premium features are worth it to you!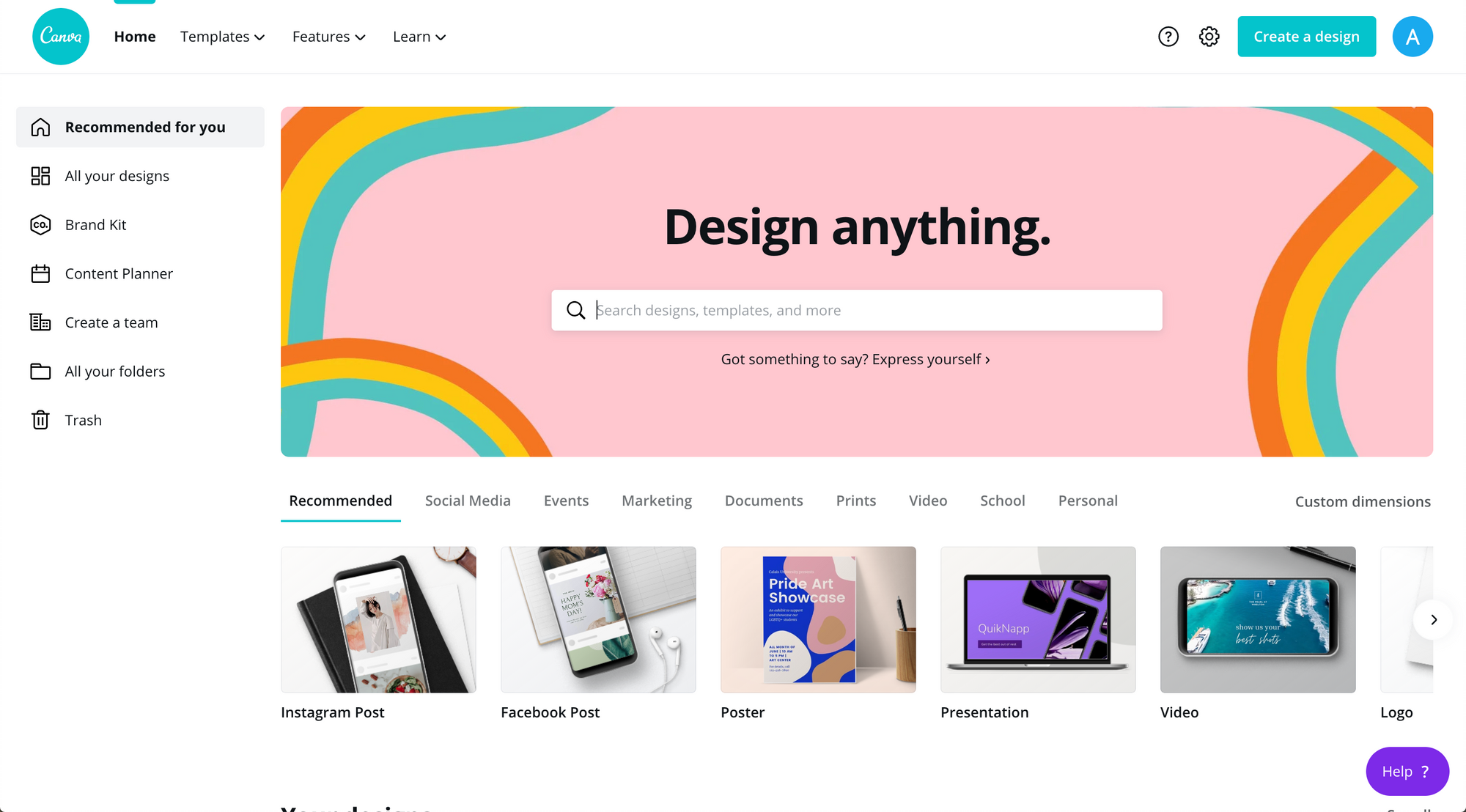 To get started with Canva, you'll need to first decide on the size of your graphic. Canva has a variety of pre-made templates for Instagram grid posts, Instagram story posts, Facebook cover photos, Pinterest images, and other social media posts. If it's a specific type of social media post, Canva is likely to have a template for it.
You're now ready to start designing your post once you've completed that. You have the option of starting from scratch or using one of Canva's templates. Whatever option you choose, keep in mind that consistency is key to building a strong brand, so make sure your branding is consistent across all of your posts. Consider using a consistent color palette and fonts across all of your online profiles, websites, social media accounts, marketing content, and so on.
You can save and download the social media content you've created on Canva once you're satisfied with it. Because you should post your images in JPG format on social media platforms, we recommend selecting that option when downloading your posts from Canva.
After that, you can start sharing your new social media content!
Use stock libraries to find social media content.
Using high-quality stock libraries to source images and videos for social media content is another viable option. There are literally hundreds of resources available for finding images and videos to use on social media, so if this appears to be a good fit for your brand, it's worth investigating.
Stock photos and videos can add versatility and a professional-looking quality to your social media posts that you might not be able to achieve on your own. They can provide high-quality results without requiring you to invest time, effort, or money in creating the assets. If you have a small team, this can relieve you of a lot of work while still providing you with the social content you desire!
Finding high-quality stock providers is the key to using stock photos and videos in your social media content. Take the time to look around for providers who are a good fit for your brand. Unsplash, Stocksy United, and Offset are some of our favorite stock libraries because they all have large collections of high-quality digital assets.
Use templates to create social media content.
Social media templates are created and sold online by a slew of talented designers. These templates are fantastic because you can customize them to fit your brand and then share them on your own social media channels
One of the most important benefits of using templates is that they make your social media content look professional and maintain a consistent look across all of your posts.
Creative Market is a good place to look for high-quality templates. Canva's options still require a lot of editing—you basically have to put the social posts together yourself. These templates are very different from Canva's options because Canva's options still require a lot of editing—you basically have to put the social posts together yourself. Creative Market's templates, on the other hand, are almost ready-made for you to use—all you have to do is plug in a little of your own information and you're good to go.
Creative Market not only has image-based content templates, but also video content templates!
Although purchasing social media templates isn't a free option, it is still less expensive than hiring someone to create content for you on social media. This makes it ideal for digital merchants on a tight budget who want polished-looking content.
Transform the features of social media platforms into the content.
Don't forget that you can create social media content from within the social platform itself as a brand!
Take, for example, Instagram stories: To interact with your audience, you can create polls, ask questions, and use a variety of Story features. Polls can also be created and published on Twitter.
This type of content is important, so don't ignore it. It can encourage your followers to interact with your profile in a variety of ways, and you can use it in a variety of ways. The best part is that it doesn't cost you anything to use, and you don't have to put in a lot of effort to design it—all it's included in the app.
Harness user-generated content (UGC)
Another method of content creation that encourages audience participation is this.
When online merchants allow their followers to submit images or videos of themselves using or wearing the brand's products, this is known as user-generated content. You can then use the user-generated content to promote your brand on social media (with each customer's permission, of course).
Utilizing the power of user-generated content has numerous advantages. To begin with, you won't have to waste time, energy, or resources creating your own content, and it will also assist you in generating a lot of social proof and positive press for your products. It's a huge win-win situation for everyone involved.
If you like the idea of user-generated content, you can entice your audience to contribute by holding a contest or offering a shoutout on your social media pages. When you give your audience a reason to participate, they are much more likely to do so. Once a few customers have signed up, others will most likely want to follow suit!
Overall, UGC is best for merchants who want to empower their customers to create social media content. It's ideal for those who don't have the time or skills to create high-quality social media posts, as well as entrepreneurs looking for a simple way to leverage social proof and increase audience engagement.
Commission influencer-generated content
Influencer marketing is a huge industry right now, and it's only getting bigger. As a result, using social media content created by influencers is another option worth considering.
It's important to note that getting influencer-generated content is not the same as influencer marketing. When you collaborate with an influencer to create content for your brand in this way, it's so that you can post it to your own social media channels rather than theirs. In most cases, content is posted on the influencer's channels and then shared on the brand's, but in this case, it's usually the other way around. The influencer can choose to share the content on their own account after it has been posted to the brand's account.
This method of content creation has two major advantages:
Working with influencers can really boost your brand's reach

When influencers create content for you, you're working with a pro content creator
Furthermore, you are not limited to working with influencers with large followings; you can also work with micro-influencers. Micro-influencers are known for having large and active followings, as well as being more willing to create content for a brand. When you hire micro-influencers to create content for your brand, you'll almost certainly pay less and give the influencer more work to add to their portfolio.
Finally, this method of creating social media content is ideal for merchants who want polished, professional content as well as the exposure that comes with working with influencers. This method does, however, come at a cost, so keep that in mind. The costs are largely determined by the quality of the influencer's work and the size of their following, so keep that in mind before approaching influencers in your niche.
Invite guests to take over your socials
This is a fun way to come up with unique content.
If you're unfamiliar with the concept of a social media takeover, it's when you collaborate with another brand or content creator to have them "take over" your profile.
Guest takeovers are most commonly done on Instagram or Twitter, and if done well, your guest should post content that delights, surprises, and educates your audience.
Guest takeovers, like working with an influencer, are great for reaching new prospects and/or merging audiences. It's also an excellent opportunity to create exclusive content, behind-the-scenes posts, or simply to think outside the box.
This type of content not only provides a refreshing change of pace for your audience, but it also puts your content creation in the hands of someone else. As a result, you'll be able to focus your time and energy on other aspects of your business for a period of time.
Most brands only bring on guests to take over their profiles every now and then, but if it works for yours, you could do it every day, every other day, every week, or every month! Whatever suits you and your audience the best.
Set goals and use metrics to measure the success of your social media takeover if you're thinking about hosting one. You'll be better positioned to shape the takeover so that you'll be one step closer to meeting your goals once you have your target(s) in mind.
Work with freelancers to create your social media content.
Outsourcing to a freelance designer can be one of the best things your business does if you want to maintain an active presence on social media while taking the workload off of you or your team.
Posting on social media takes time—you must post frequently and always be posting high-quality content that is both engaging for your audience and relevant to your brand—so you must put in the effort if you want to see the results that social media can provide. Outsource to a freelancer for polished, professional, and consistent work.
To create social media content, you could hire content creators, designers, and/or social media experts. You can find freelancers with a wide range of experience starting at all different price points on freelance platforms like Upwork, Fiverr, and FreeUp, and you can usually hire them for short-term work, recurring projects, or even full-time contract work. So, whether you just want to hire a social media content creator a few times a year or want to hire one full-time, you can do so!
The merchant who wants polished, well-put-together content without having to spend the time creating it should hire a freelancer to create social media content for their brand. If you go this route, you'll also need to be willing to outsource this work, as high-quality social media content creators should be well compensated for their knowledge and experience. The freelance platforms we mentioned above clearly list the price per hour for hiring freelancers, so you can use that information to narrow down your search or keep it in mind as you look through profiles.
Are you ready to start creating social media content?
We hope you now have a better understanding of all the different ways you can create your own social media content. As you can see, there are numerous methods available; if you're unsure where to begin, start with the free options and progress from there.
For more tips on improving your store, check out our other articles here on Autoketing. 
In case you're looking for trustable applications to your Shopify Store, check for the reference resource Shopify App Store  
Please keep in mind that the Autoketing Team is always ready to support you. We are a Shopify trustworthy partner.
Autoketing is constantly looking for new updates and the best solution for online business on Shopify Store.
If you need any assistance or questions, please do not hesitate to reach out. We're always there to help.
For more articles, find us here.
Email: [email protected]
Social Media: