7 Crazy effective Halloween marketing campaign tricks
history October 22, 2021
local_library 14106 minute read
When October arrives, brands immediately begin marketing their Halloween-themed products and services. According to the National Retail Federation, Halloween spending reached $8.05 billion in 2020 and is expected to reach up to $10 billion this year, despite the difficult COVID-19 retail landscape.
Shoppers spend money on decorations, candy, costumes, and even the occasional visit to a haunted house (if restrictions will allow).
The most effective Halloween marketing campaigns frequently feature clever storytelling with a heavy emphasis on video. So, here are a few tricks (as well as treats) to spook up your Halloween promotions and create a great social media campaign for your brand.
Awesome (and simple) Halloween marketing campaign ideas
1. Enhance the appearance of your store and social media profiles.
We've all experienced the thrill of seeing storefronts decked out for Halloween (just like Christmas and other holidays). No matter what product you buy, it's a spooky and fun atmosphere to be in. People enjoy it, and a well-decorated store can be just the nudge your customers need to make a purchase.
Similarly, you can spruce up your social media profiles. Change the color scheme of your cover photos to reflect Halloween, or add some spider webs and pumpkins. If you have a developer on hand, you can incorporate the same graphics into your website or app for added impact (just remember to take them off when the season ends).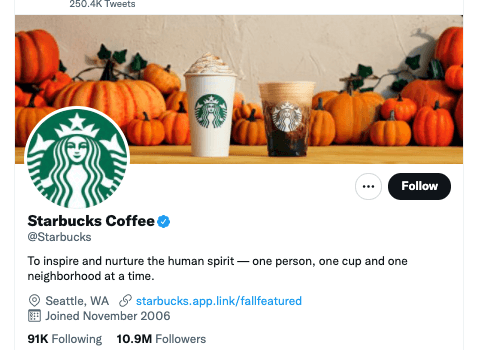 2. Experiment with "spooktastic" images.
Visual content, such as images, GIFs, and videos, captures the attention of social media audiences far more effectively than plain text and link previews. Special occasions such as Halloween allow businesses of all sizes and sectors to let loose and have some fun.
So it stands to reason that we should take advantage of this opportunity, right? When you have the right tools and some time to spare, creating visual content isn't too difficult. Get inspired and start working!
There are several approaches to take when creating Halloween posts for social media. Here are some simple and fun ideas for Halloween-themed content:
On Instagram, Facebook, or Twitter, let your imagination run wild with Halloween puns.

Choose a color or a theme (for example, monsters, carnival, or kid-friendly) and run with it.

Make spooky images and post one every day.

Add fun illustrations to existing product shots.

Photograph your team in their costumes.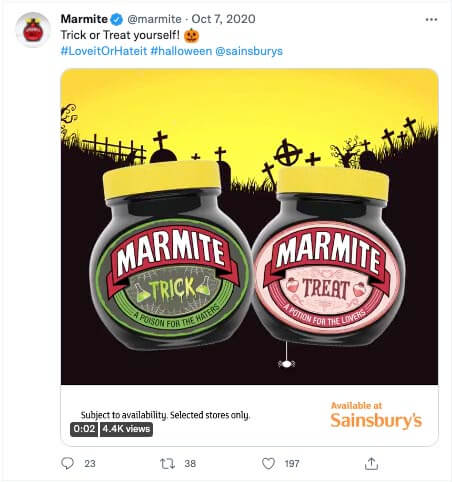 3. Provide a fantastic seasonal discount
It's Halloween, and your customers (both existing and prospective) may be expecting special deals. These can range from a full-fledged sale to a small discount on the next order to a holiday-themed freebie with every purchase of a certain amount.
Using social media, as with any holiday campaign, can help you increase engagement for your offers. Try a Halloween-themed giveaway on Facebook or Twitter polls. Pose questions about autumn or the holiday, and provide content to all participants along the way. Once you've determined the winners, make sure to send them their special promotional codes and gifts.
Running competitions in exchange for freebies may appear to be an old-school Halloween marketing idea, but with the help of social media, it can be brought into the twenty-first century and used to generate brand awareness.
Chipotle has demonstrated this perfectly with their 2020 #Boorito TikTok campaign. TikTok users who recorded videos of themselves and their Halloween costumes morphing could also win a buy-one-get-one-free burrito coupon.
The challenge encouraged Tik Tok users to post Halloween videos on the short video platform that featured theirs before and after Halloween transformations. The incentive? The top five submissions that receive the most likes win free burritos for a year.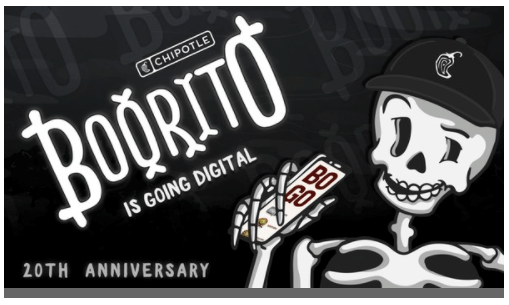 4. Add the spook factor to your customer's experience
Want to go beyond just decorating your social media profiles and offering a discount? Consider making your product or service eerie. This technique can be applied to almost any B2C business, but it is best suited to those that offer services and experiences.
For example, if you host outdoor activities, you can make Halloween night (or the weekend closest to it) a special event. Depending on the theme, you can invite people to dress up and then post the results on social media. If your target audience isn't into Halloween, you could still host an event with an autumnal twist, such as seasonal treats and drinks.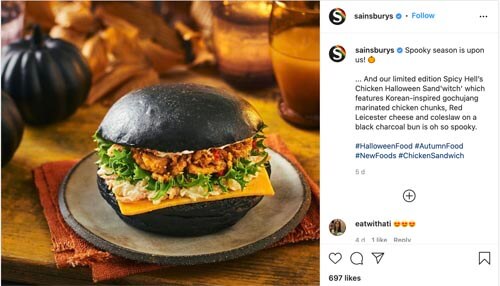 5. Organize a photo contest
It may be cliche, but it never gets old. Halloween allows everyone to dress up in ridiculous costumes. Accept it and hold a photo contest on social media – it's a fun way to interact with your followers.
In addition to costumes, you can make food, decorate rooms, or find spooky things and places. Remember that every social media campaign must be related to your brand, mission, or product, so the type of contest must be appropriate.
Set a campaign-specific hashtag and provide fun prizes throughout the competition, with the grand prize being announced the morning after Halloween.
You can also hold a smaller-scale contest in your own office. Ask your team to dress up, then create a Twitter poll to see which costume your followers prefer. Similarly, you can host a bake-off, play fun games, and document it on Instagram – all in the name of humanizing your brand in a fun way!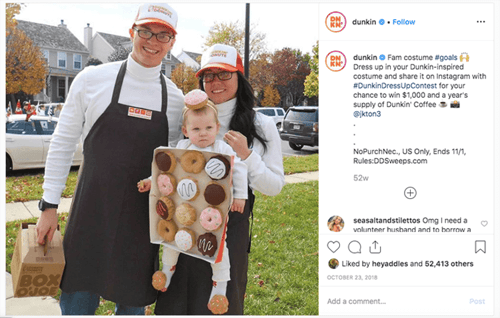 6. Offer help and advice
If you're not into discounts or dressing up, and you don't want to scare your customers, you can creep it real and give them some relevant advice instead.
The type of advice you give is heavily influenced by your business, and the possibilities are virtually limitless.
For example, you could provide actionable advice or discuss safety and health in relation to Halloween and/or autumn. If you work for a digital agency, you can offer advice on your area of expertise in relation to the holiday. Talk about the dark autumn evenings and the importance of taking care of your home and possessions if you sell security systems.
7. Choose spooky elements for your online store.
When it comes to Halloween marketing campaign, you should add a little flair to your online business. Switching to a completely new theme design would be inconvenient for your backend. Preferably, you can incorporate Halloween elements into parts that are adaptable and engaging enough to evoke a Halloween mood and impress visitors on their first visit to your store:
Pop-ups

: It will be easier to attract customers if you impress them with an intriguing Halloween image from the moment they land on your website.

Banner or Homeslider: These are excellent places to display eerie photos. You can make an investment in the design by including your products, promotions, or gifts in the image for advertising purposes.

Header bar: It is not always possible to decorate your store with photos. Create Halloween content by introducing a special Halloween promotion in the Header bar to increase sales.
The main takeaways
Personalize your store and social media profiles.

Use your imagination when creating "spooktastic" images.

Provide a fantastic seasonal discount.

Add a creepy element to your customers' experience.

Organize a photo contest.

Give advice and be helpful.

Choose spooky elements for your online store.
So there you have it: Seven frighteningly effective and simple Halloween marketing campaign ideas for your social media. We hope you'll be able to hire at least one of them this year and see the extra boost in engagement and sales that you're looking for!
Consider content repurposing before creating new content; there may be a way to add a twist to an existing piece rather than creating everything from scratch.
For more tips on improving your store, check out our other articles here on Autoketing. 
In case you're looking for trustable applications to your Shopify Store, check for the reference resource Shopify App Store  
Please keep in mind that the Autoketing Team is always ready to support you. We are a Shopify trustworthy partner.
Autoketing is constantly looking for new updates and the best solution for online business on Shopify Store.
If you need any assistance or questions, please do not hesitate to reach out. We're always there to help.
For more articles, find us here.
Email: [email protected]
Social Media: