6 Strategies to make more sales by using popups
history September 11, 2021
local_library 15768 minute read
When the majority of people think of using popups, they think of unrelated ads that appear while they read. But that's not all they can be!  They can be used efficiently to generate more revenue and attract your clients.
However, how can you efficiently employ them? Here are a couple of first tips.
Put them in context
Popups are always intended to relate to the page they appear on. When someone browses a website devoted to teamwork software and a popup shows on a telemarketing ebook, they almost surely will be frustrated. They might take the popup further and close the entire site.
Instead, try to ensure any popup is directly relevant. For instance, when they add it to their basket, a popup requesting their email address to sign up for a tutorial call about the software could appear.
Make it valuable
A customer needs an excellent motive to use popup publicity. This means something of worth needs to be offered. It is likely to be overlooked when your popup delivers only information. Try to make it valuable.
A good example of this is the addition of a discount code, but not alone. We will shortly give you a few more examples!
Keep it fast
Even if it is beneficial and attractive, popups nonetheless take care of the client what they originally looked at. Make them understandable at a glance quickly and easily.
In that way, it will either attract your attention or recognize it without distracting you from your primary objective.
Make them easy to exit
We all met them – popups without an obvious option to close them down. Make sure the option to close the pop-up is straightforward to see (and click!). This may seem to counteract your desire to engage people, but it does not lose the customers who are not interested. Only sales are to increase with the popup, not risk visitors completely leaving the site
Show them only one time
Popups should be extremely targeted, and should definitely not appear again. Whenever a customer clicks on a new page, the same popup occurs, they will lose interest rapidly.
Make sure instead that they are used just at the most crucial points. This frequently means certain product pages and the cart on your homepage.
Customize them
The better you can customize the popup. You can use many factors for this. You may deploy a popup link directly connected to this if someone has followed a link from any search keyword or any social media marketing campaign.
Or, you can show specific offers for them by nation – many restaurants do this to highlight local deals. Based on how long someone was on a given page, you can even trigger popups.
Let us look into six methods in which popups can be used for generating more sales with these tips in mind.
1. Purchase offers for the first time
Many websites employ first-time incentives as a technique to complete a sale and collect client information simultaneously. Installations are best delivered a few seconds after the website is opened instead of waiting till users view the site to add stuff to their cart. They should not take up the entire page, ideally, but they ought to be attractive and focused.
These can be targeted based on how the consumer is found on the webpage, or simply by reference to your present items or offers. In return for a discount code, an email is the easiest way to display such popups.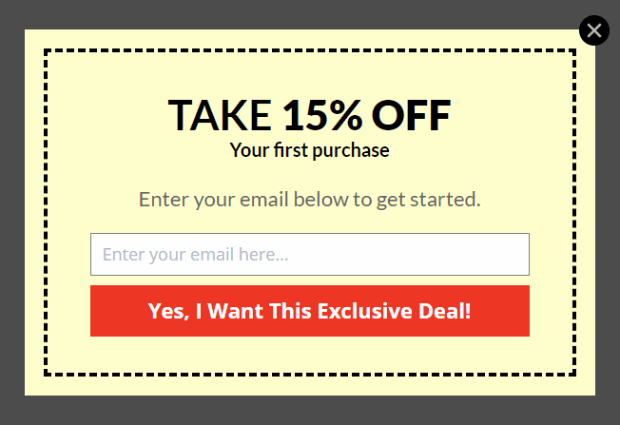 2. Exit popups
Even when you do not sell, you can collect information to eventually convert your leads. Exit popups are an excellent approach to find out what consumers would put off your website. This is activated if someone leaves the website. It's crucial to note that they don't want to prohibit individuals exiting the page to just lookout.
Alternatively, you can try to get an offer. This is especially useful when you add anything to your cart that leads to abandoned cart offers.
Many online companies find that their drop-off rate is rather high. One method to combat this is to utilize exit popups developed especially for users who leave a cart containing items. Frequently, shipping costs are the reason why customers leave abandoned carts. Therefore, free shipping would be an easy, attentive offer.
This is also possible with some upselling by free transport over a specific quantity (particularly if they are already near to such a level!)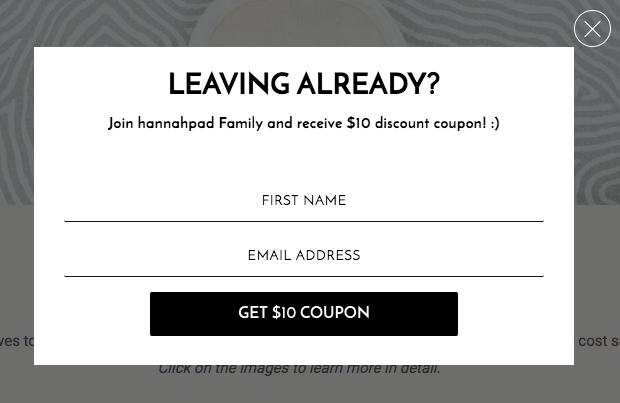 3. Time-limited offers
With time-limited deals, you can create urgency for your customers.
You may push customers to purchase things instantly by providing a sense of urgency to promotions. While they may have added it to their cart previously, they decided to come back and forget it. You can reinforce this with the same information in the popup exit/cart.
These may be utilized throughout the year – although repeated clients will catch up if the offers are extremely similar. Therefore, time-limited deals are especially effective during the vacation. Websites generally carry huge volumes of customers on Christmas, New Year, Thanksgiving, and Black Friday/Cyber Monday. Capitalizing on the pre-existing urgency around these events can really help increase your sales for that quarter.
4. Newsletter or account sign-ups
You can also focus on bringing new leads as well as trying to produce revenue directly. These are 'warm' leads since they have shown some interest.
The greatest option is to join up for a newsletter in a simple way. As noted above, some websites obtain a special offer by way of access, while others just ask directly.
Account registration is similar to newsletter registration. These go beyond simply taking an email to an updated list. Rather, the customer is encouraged to register on the website.
Loyalty programs such as dots are a wonderful method to transform purchases into subscriptions, as they offer actual advantages. They also encourage repeat customers. If you're likely to get points towards money off from a certain website, you'll be more inclined to use it than somewhere new.
5. Exclusive content
Both the above sorts of popups can also be mixed. Except for traditional retail Web sites, exclusive content popups are less useful for blogs and enterprises that sell training courses, ebooks, or software.
Usually, you can only access anything by signing up for a newsletter. It is often a product in its own right, rather than a discount coupon.
You could offer an ebook on the digitization of HR departments or other similar subjects for example while selling HR software. This is another wonderful technique to gain inside, because you may not only subscribe but also give a sample of what you do for future updates.
6. Chatbot/messenger popups
You may also create more engaging popups that are great for your clients to move in the proper route. You can ask the customer a question and then make use of chatbots and instant messaging.
This popup allows you to focus on consumer answers instead of assumptions from your browsing explicitly. You will be updated with further answers if you select one of the alternatives.
This helps the customer not to have to look at the website to understand his demands. Instead, it puts them in customer support immediately. This can be particularly helpful if you offer a lot of services, and if you've found that you often get questions during the purchasing process anyway. You can even link it to an auto-scheduling service to set up an online video call to cement the sale.
What next?
It is time to attempt one of them on your website if these ideas grab your interest. It should be tested one or two times, rather than overwhelming new clients with several popups and overlays. The first time you have purchased a newsletter and sign up is a terrific starting combination. These are especially helpful because the use of the discount code and new email sign-ups can directly assess their impact.
Be sure, whatever you do, that pop-ups should improve the website experience of a consumer rather than impede it.
Are You Ready to Start Making Effective Website Popups?
Then you should start using these best practices right away. If you don't already have one, we recommend that you start with 
Popup Sign up‑Sales Pop Banner by Autoketing.
At the very least, you won't have to learn a coding language this way. Simply drag and drop the items into your popup, then fill in the text.
It only takes a few minutes to get your website popups up and running.
Check it out now to see how it can assist you in converting more leads!
For more tips on improving your store, check out our other articles here on Autoketing. 
In case you're looking for trustable applications to your Shopify Store, check for the reference resource Shopify App Store  
Please keep in mind that the Autoketing Team is always ready to support you. We are a Shopify trustworthy partner.
Autoketing is constantly looking for new updates and the best solution for online business on Shopify Store.
If you need any assistance or questions, please do not hesitate to reach out. We're always there to help.
For more articles, find us here.
Email: [email protected]
Social Media: